Description
POWER CUSHION+ construction enables a new level of fast and light footwork.
| | |
| --- | --- |
| Color(s) | White / Orange |
| Upper | Synthetic Leather |
| Midsole | Synthetic Resin |
| Outsole | Rubber Sole |
| Size | 25.0~31.0 cm |
| Item Code | SHB65Z3W |
POWER CUSHION
Shock Absorption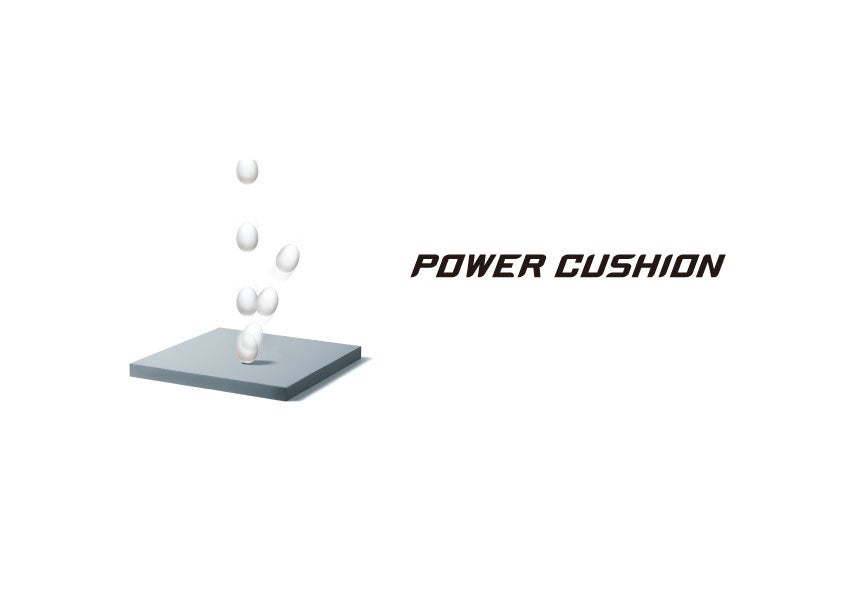 The YONEX Power Cushion absorbs shock then reverses the impact energy for smooth transfer into the next movement.Compared with urethane, the YONEX Power Cushion construction provides 3 times more shock absorbing power. When dropped from 7m above a Power Cushion sheet, an egg will bounce back 4m without damage.
POWER CUSHION +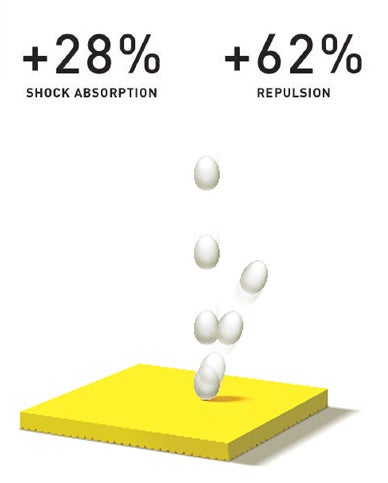 A raw egg can be dropped from 12 meters above the POWER CUSHION+ mat, rebounding to a height of 6 meters without breaking. **Tested by YONEX** POWER CUSHION™ is a trademark of Yonex Co., Ltd. *Research by the Japan Vehicle Inspection Association & Boken Quality Evaluation (based on JIS standards) in comparison to conventional cushioning material (EVA).
Double Russel Mesh
Double Raschel Mesh is an ultra fine mesh that is extremely lightweight and durable. It provides eight times more air-exchange for releasing moisture than ordinary mesh fabric.
Power Graphite Sheet
Stable
A graphite plate is inserted under the middle portion of the sole to increase stability and reduce weight within the shoe.
Power Graphite Lite
Increased Stability
A super-light graphite plate is inserted under the middle portion of the foot to increase stability and reduce weight within the shoe.
Lateral Shell
Reduced Power Loss
The Lateral Shell located on the outside of the forefoot prevents sliding at the edge of the sole. It reduces power loss, increases footwork response and creates smooth, fluid and offensive foot movements.
Synchro-Fit Insole
Quicker Footwork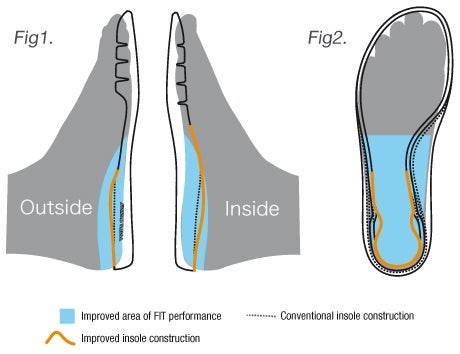 YONEX new Synchro-Fit Insole construction allows a closer fit between shoe and foot, keeping power loss to an absolute minimum to achieve smoother movement and quicker footwork.Fig1. Compared to conventional footwear, the mid to heel area on the insole is lifted to provide a closer-fit between shoe and foot.Fig2. By holding the heel more firmly against the insole, the gap between shoe and foot is reduced, improving comfort and ensuring the foot does not slip forwards inside the shoe.
Toe Assist Shape
A toe-centric design that cuts down on pressure in the big toe, as well as offering improved support at the mid-foot and heel for a stable fit. Power loss is reduced, allowing for swift footwork.

Round Sole
Max Energy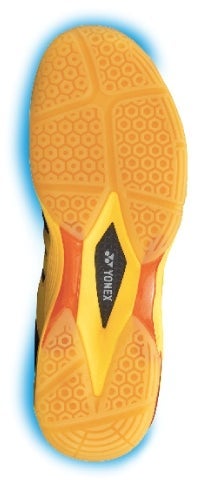 The YONEX Round Sole is designed to provide all-around support for quick and smooth footwork. The Round Sole ensures smooth movements and transfer of maximum energy.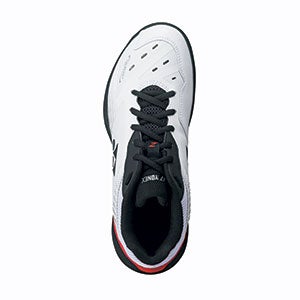 SEAMLESS UPPER
By utilizing a single piece of synthetic leather upper across the toe and mid areas,
the fit is enhanced and unwanted strain is alleviated.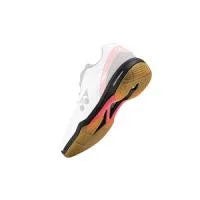 FEATHER BOUNCE FOAM
A lightweight, high repulsion material built to support agile, fast paced footwork. 8% lighter in weight,
while generating 20% more repulsion than the previous model.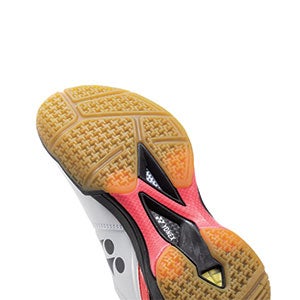 RADIAL BLADE SOLE
Designed for confidence in directional change. A new sole pattern increasing traction in vertical,
horizontal and diagonal movements.
Smash Nation will make sure you have the best experience by providing superior customer service by helping you find your perfect gear. We guarantee that you will find the best prices here, so as to save you the trouble of shopping around. We will match any lower price you find. We also know it is frustrating to purchase a product and discover soon after that the price was reduced. To give you the peace of mind of purchasing your gear with Smash Nation, we offer a 30-day Price Match Guarantee.
If you find a lower price within 30 days of purchase, we will credit you the difference. Additionally, we will offer you a 10% discount code for your next purchase
.
The following conditions apply:
We must be able to verify the lower price (i.e. Website). We will match any other website's price on an identical product, with the exception of bidding sites (i.e. ebay).
We offer free shipping on orders over a certain dollar amount so we will factor in the shipping cost when determining a price match.
The competitor must be an authorized dealer of the product in question.
The competitor must have the product in stock and available for sale (including the desired color and size if applicable)
The competitors "at your door" price including shipping fee's will be factored in.
If the competitor offering the lower price is not domestic, any additional shipping or customs fees will be considered when matching the price.
Price match guarantee cannot be combined with any other discounts, coupons or free shipping offers. Price Match Promise does not cover competitor coupon offers or free gift with purchase offers.
Price Match Promise does not cover competitor clearance sale, as many clearance sale prices are lower than items' cost.
Quick and Accurate
the shoes arrived before I anticipated and were perfect shape. Will definitely look to use smash nation for future badminton purchases
Yonex 65 Z3 wide
Fot like a dream. No extra length required with the wide. Toes fot comfortably. Super grippy. Only worn around the house to break them in. Looking forward to getting out on a court. Smash nation was quick to inform about current promotion and I was happy to oblige. Delivery was quick. Thank you!
Yonex Power Cushion 65 Z3 Wide Badminton Shoes
Great shoes for badminton
The new version from the popular 65Z3 series released this year, not sure the reviews before 2023 are for which shoes. Looks great in style especially back to yellow sole for the white shoe, very comfortable with some room for toes to wiggle and feet swelling during exercise though I don't consider my feet are wide. Shipping could be improved for better customer experience, courier should ship the item once received instead of the unnecessary delays of 3+ days.
Perfect fit for wide feet!
Love these shoes for badminton !
Payment & Security
Your payment information is processed securely. We do not store credit card details nor have access to your credit card information.